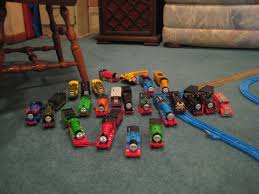 Thomas the Trackmaster Show is a show created by Ramahfool.
It has lasted 12 episodes, The last episode was uploaded in the summer of 2012, so it's unknown when the next episode will arive.
While it may a show for kids it might also be a show for adults as some of the early episodes and early shorts have engines saying a curse word with a bleep. But nowadays, Engines don't say curse words that much often.
He used to use Windows Movie Maker 6. But now he uses iMovie. He also uses Microsoft Paint for the pictures.
He has never made another episode since 2012 the next episode is to release in 2017 possibly?
Headline text
Edit
Thomas & Friends
powerpuff girls
Cars 2
SpongeBob SquarePants
Little Einsteins
Thomas & Friends Edit
SpongeBob SquarePants Edit
Making Fiends Edit
Little Einsteins Edit
Wow! Wow! Wubbzy! Edit
WordGirl Edit
FanBoy and Chum-Chum Edit
Aventures of Maddy & Friends
Making Fiends
Wordgirl
Little Einstines
Thomas and Friends
The Great Discovery
Thomas and Tillie
Trouble with Thomas
Motherś day
The Donut Sneakers
No Rules Rule or New Friend
Cousin Neville
Spencer in trouble
Bill and Ben
Train Safety Tips
Movies
Holiday Shorts/Specials
Christmas 1- Holiday Mess Up
Valentines Special- The Perfect Valentine
Haikus
Picture
Watching
Canyons
Pools
Bullys
Cars
Gap
Accidents
Thomas Fire Drill
Gordon Returns
The Bully
Fatty Goes Up
Madge's First Day
Train Safety Tips
Avoid Bridges and Tunnels
Haikus
Staring Contest
Path
Rushing
Energy
Oblivious
Speed
Swap
Explosion
Old line
Chase
Bumping
Toast
Holiday Shorts/Specials
Edit
Christmas Special- Naughty Crane
Shorts
Ad blocker interference detected!
Wikia is a free-to-use site that makes money from advertising. We have a modified experience for viewers using ad blockers

Wikia is not accessible if you've made further modifications. Remove the custom ad blocker rule(s) and the page will load as expected.