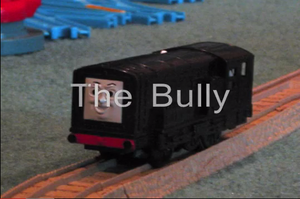 The Bully is the 12th. (And. Final) episode of Thomas the Trackmaster Show.
Characters
Edit
Thomas
Henry
Gordon
James
Percy
Whiff
Billy
Stanley
Diesel
'Arry and Bert
Den
Dart
Victor
Kevin
Sir Topham Hatt
Edward (cameo)
Toby (cameo)
Emily (cameo)
Duck (cameo)
Donald and Douglas (cameo)
Mavis (cameo)
Murdoch (cameo)
Annie and Clarabel (cameo)
Cranky (cameo)
Locations
Edit
Tidmouth Sheds
Sodor Steamworks
The Dangerous Bridge
Sodor Dieselworks (mentioned)
The Scrapyards (mentioned)
This episode replaced the episode Thomas and Percy's Best Friend. ironicly both episodes introduce stanly.
First apperance of dorsal Kevin has less lines then the privios episode
this is the last episode until 2015
This is an anti bullying episode
Ramahfool: Thomas, Henry, Gordon, James, Percy, Whiff, Stanley, 'Arry, Sir Topham Hatt, and the Narrator
ScruffyEngine: Diesel and Billy
thenewtrainboy54: Victor and kevin
AckleyAttack4427: Den
jonahfool: Bert
BenJaguar27: Dart
Ad blocker interference detected!
Wikia is a free-to-use site that makes money from advertising. We have a modified experience for viewers using ad blockers

Wikia is not accessible if you've made further modifications. Remove the custom ad blocker rule(s) and the page will load as expected.