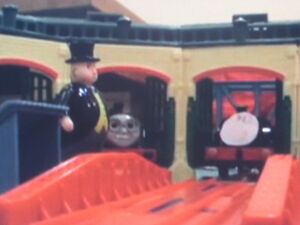 No Rules or New Friend
is the sixth episode of Thomas the Trackmaster Show.
Characters
Edit
Thomas
Henry
James
Percy
Emily
Duck
Whiff
Mike
Sir Topham Hatt
Edward [does not speak]
Mavis [does not speak]
Bertie [cameo]
Harold [cameo]
Gordon [mentioned]
Toby [mentioned]
Billy [mentioned]
Locations
Edit
Tidmouth Sheds
Henry's Tunnel
The Windmill
Coal Mine
Jail [mentioned]
the mean kid played the trick on perpos 
mavis is not a sultine 
when Emily throws the chain its gray but in the next shot its black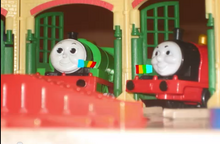 This is the last full episode to use the traditinal paper faces althoght cousin nevel used a bit of it but it also used paint
A deleted scene reveals that paint was going to be used in this episode
This episode may have been inspirated from the eleventh season episode Emily's Rubbish.
Reference to The Donut Sneakers is
Mavis crashed into tidmouth shed.
Ad blocker interference detected!
Wikia is a free-to-use site that makes money from advertising. We have a modified experience for viewers using ad blockers

Wikia is not accessible if you've made further modifications. Remove the custom ad blocker rule(s) and the page will load as expected.