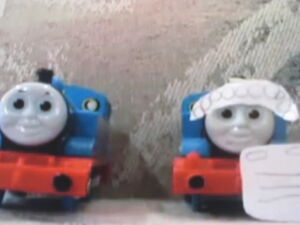 Mother's Day
is the fourth episode of Thomas the Trackmaster Show.
Duck needs to get enough money to get a mother's day present for his mom
Characters
Edit
Thomas
Edward
Henry
Gordon
James
Percy
Emily
Duck
Mike
Skarloey
Mavis
Molly
Dennis
S,C,Ruffey
Bertie
Thomas's Grandma
Sir Topham Hatt
Annie and Clarabel [cameo]
Toad [cameo]
Harold [cameo]
Duck's mother (mentioned)
Locations
Edit
* Tidmouth Sheds
* Henry's Tunnel
* Coal Mine
* Dennis's Volcano
* Thomas's Grandma's House
* The Windmill
* The Couch
Reference to James and Duck is used.
this is the only episode where Thomas has no real jobs
* Ramahfool: Thomas, Edward, Henry, Gordon, James, Percy, Emily, Mike, Duck, Mavis, Skarloey, Molly, Bertie, S.C.Ruffey Thomas's Grandma, and Sir Topham Hatt
Ad blocker interference detected!
Wikia is a free-to-use site that makes money from advertising. We have a modified experience for viewers using ad blockers

Wikia is not accessible if you've made further modifications. Remove the custom ad blocker rule(s) and the page will load as expected.