James's Wishes is a short of Thomas the Trackmaster Show.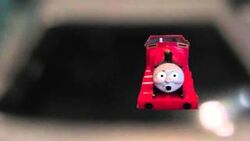 Characters
Edit
Locations
Edit
Tidmouth Sheds
Coal Mine
Sodor Steamworks
Sodor
Gare Montparasse
This is the second St. Patrick's Day short of the series.
Reference to Percy's Wishes is used.
This is the first Thomas the track master show holaday short to use ramafools old deep voice
Thomas's driver could've unlocked the doors of the shed.
Neville could've been painted back to normal at the steamworks
it is unknown how James was able to fit in the car
when James is time traveling on the present time board it says march 9th but st. Patrick's day is march 17th
Ad blocker interference detected!
Wikia is a free-to-use site that makes money from advertising. We have a modified experience for viewers using ad blockers

Wikia is not accessible if you've made further modifications. Remove the custom ad blocker rule(s) and the page will load as expected.