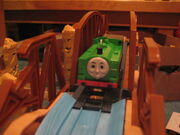 Duck is a Great Western engine.
Appearences
Edit
Season 1 - Mother's Day, The Donut Sneakers, No Rules Rule or New Friend, Cousin Neville, Spencer In Trouble, Bill and Ben (cameo), James and Duck, Good Morning, Train Safety Tips 1: Stay Alive, and Holiday Mess-Up,
Season 2 - Gordon Returns (cameo), The Bully (cameo), and James's Wishes (cameo)

     Friends: Thomas, James, percy, Emily, Bill and ben, Henry, and Sir topham hatt
     Enemies: James ( Formley ) and Diesel 10
Ad blocker interference detected!
Wikia is a free-to-use site that makes money from advertising. We have a modified experience for viewers using ad blockers

Wikia is not accessible if you've made further modifications. Remove the custom ad blocker rule(s) and the page will load as expected.